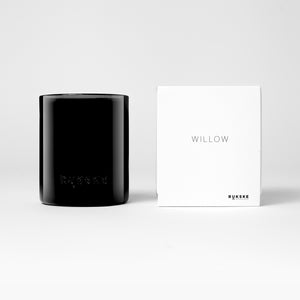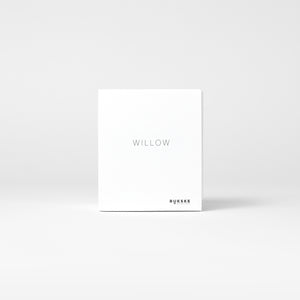 WILLOW
WILLOW is a testament to nature's most incomprehensible mysteries; an unmistakable reminder of the natural world's inherent power. The fragrance is immediately bold, challenging the notion that a green, ecological scent might inherently be predictable. This is the ultimate reminder that our planet is anything but an afterthought and that we are mere parts of her majesty. We are here for saving the earth, but making it sexy. Who knew that Mother Nature was so spicy?

Multi-leveled and complex, Willow takes you on an adventure as top notes of green leaves and orange set the stage for the scent experience. Like a warm breeze through the teak forest in Myanmar, the heart of teak wood, cedarwood, and sandalwood waft towards you next. Vanilla, guaiacwood, and tree moss ground the presentation into a profile that is at once unexpected and addicting.

Willow's commanding presence reminds us of the effects of a glass of rooibos tea with a warming aftertaste that commands attention. With an energizing, inspiring effect, this burn will have you reaching for your carry-on and jonesing to take a vacation where you reconnect with the Mother and return home to your place as one with all creation. 
TOP: GREEN LEAVES / CITRUS
HEART: TEAKWOOD / CEDARWOOD / SANDALWOOD
BASE: VANILLA / GUAIACWOOD / TREE MOSS