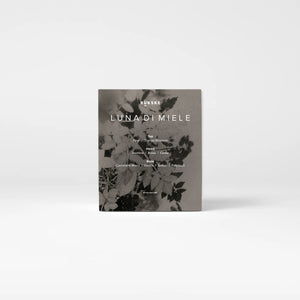 LUNA DI MIELE
Indulge in the alluring charm of an Italian honeymoon with LUNA DI MIELE, a captivating candle scent that captures the essence of romance, passion, and is a limited edition scent in honor of our founder's dreamy nuptials. Crafted to evoke the blissful memories of a honeymoon spent in this enchanting country, this fragrance weaves together a symphony of notes that will transport you to the sun-kissed shores, picturesque landscapes, and intimate moments of amore.
At the top, the scent opens with the succulent sweetness of Pear, reminiscent of the luscious fruits found in Italian orchards. Combined with the delicate and fragrant allure of Orange Blossom, it paints a vivid olfactory picture of strolling through sun-drenched citrus groves, hand in hand with your beloved, as the intoxicating aroma of blossoms fills the air.
As the heart notes unfold, a captivating bouquet of Jasmine, Anise, and Cedar takes center stage. Jasmine, known as the "Queen of the Night," exudes an intoxicating floral fragrance that symbolizes love and seduction. The aromatic notes of Anise add a touch of spice, reminiscent of the flavors of Italian cuisine and the warmth of shared meals. The woody nuances of Cedar evoke the majestic Italian forests, adding a sense of tranquility and grounding to the composition, like a romantic walk through nature's embrace.
As the candle burns, the base notes of Cashmere Wood, Vanilla, Amber, and Patchouli emerge, creating a lingering and sensual aura. The smooth and velvety essence of Cashmere Wood wraps you in an embrace of luxury and comfort, while the sweet and creamy notes of Vanilla conjure images of delectable gelato enjoyed on quaint cobblestone streets. The warm and inviting presence of Amber encapsulates the sunsets over the Italian coast, casting a golden glow of passion and desire. Finally, Patchouli adds an earthy depth, reminiscent of the rich history and ancient charm found throughout Italy.
Immerse yourself in the romance and splendor of an Italian honeymoon with LUNA DI MIELE. Let its captivating fragrance transport you to the rolling hills of Tuscany, the azure waters of the Amalfi Coast, or the timeless beauty of Venice. Allow the delicate interplay of scents to envelop your space, creating an ambiance that speaks of love, adventure, and cherished memories. Illuminate your surroundings with the essence of an Italian romance and let LUNA DI MIELE be a gentle reminder of the eternal bond formed during those precious moments spent in Italy, celebrating love and the beginning of a lifelong journey together.
TOP: 
PEAR
 / ORANGE BLOSSOM
HEART: JASMINE / ANISE / CEDAR
BASE: LEATHER / CASHMERE WOOD / VANILLA / AMBER / PATCHOULI