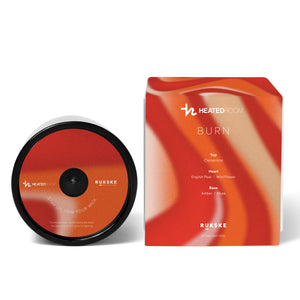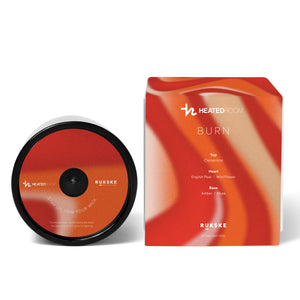 BURN x HEATED ROOM
Introducing our exclusive collaboration with Heated Room, a Los Angeles premier infrared studio.
BURN is capable of transforming the deepest corners of your home into a sensual vibe. With a persona that captures the dynamism of opposites, BURN balances associations with night and day into a truly delicious olfactory profile. There is just something intoxicating about it.

The scent is bright, bold and empowered, but never overbearing; an individualist, yet delicately sexy. At first whiff, you will pick up on a sophisticated composition of florals and amber — though never so much as to be perfumey. This topples over into the uplifting scent experience provided by invigorating clementine and English pear: a little bit sweet, a little bit tart, and universally appealing.

Trust that it will not take long for our sultry concoction to become your next Summer fling… For a lucky few, it might very well become a new year-long staple.
Burning exclusively at Heated Room.
TOP:  CLEMENTINE
HEART: ENGLISH PEAR / WILD FLOWER
BASE: AMBER / MUSK